As discussed in Overview of Choice-Based Conjoint, the questions in a choice-based conjoint study are derived from an experimental design.
The table below shows the first few rows of an experimental design, where:
Each choice question contains three alternatives (i.e., hypothetical products), and thus the first three rows of the table describe the first choice question (shown below the experimental design).
Each version of the questionnaire contains questions. All the questions in the first version, and the beginning of the second version, are described below.
In the table below the wording of the attribute levels are shown. It is common to instead show just numbers (e.g., rather than show Hershey, Lindt, and Dove in the first three rows, instead show 1, 4, and 2, where each of these numbers represents the levels of the Brand).
| | | | | | | | | | | |
| --- | --- | --- | --- | --- | --- | --- | --- | --- | --- | --- |
| Version | Task | Question | Alternative | Brand | Price | Cocoa strength | Sugar | Origin | Nuts | Ethical |
| 1 | 1 | 1 | 1 | Hershey | $0.99 | Milk | Standard | USA | No | BLANK |
| 1 | 1 | 1 | 2 | Lindt | $2.49 | Dark | 50% reduced sugar | Belgium | Hazelnuts | Fair trade |
| 1 | 1 | 1 | 3 | Dove | $1.49 | 70% | Sugar free | Belgian (Single origin Venezuelan Criollo beans) | Almonds | Fair trade |
| 1 | 2 | 2 | 1 | Godiva | $1.99 | White | Sugar free | Switzerland | Hazelnuts | BLANK |
| 1 | 2 | 2 | 2 | Hershey | $1.99 | Milk | 50% reduced sugar | Switzerland | Almonds | Fair trade |
| 1 | 2 | 2 | 3 | Lindt | $1.49 | 70% | Standard | Belgium | No | BLANK |
| 1 | 3 | 3 | 1 | Dove | $2.49 | White | 50% reduced sugar | USA | Almonds | BLANK |
| 1 | 3 | 3 | 2 | Godiva | $0.99 | Dark | Standard | Belgian (Single origin Venezuelan Criollo beans) | No | Fair trade |
| 1 | 3 | 3 | 3 | Lindt | $1.49 | Milk | Sugar free | USA | Hazelnuts | Fair trade |
| 1 | 4 | 4 | 1 | Hershey | $0.99 | 70% | 50% reduced sugar | Belgian (Single origin Venezuelan Criollo beans) | Hazelnuts | BLANK |
| 1 | 4 | 4 | 2 | Hershey | $2.49 | White | Sugar free | Belgium | No | Fair trade |
| 1 | 4 | 4 | 3 | Dove | $1.99 | Dark | Standard | Belgium | Almonds | BLANK |
| 1 | 5 | 5 | 1 | Godiva | $2.49 | 70% | Standard | Switzerland | Hazelnuts | Fair trade |
| 1 | 5 | 5 | 2 | Lindt | $0.99 | Dark | Sugar free | Switzerland | Almonds | BLANK |
| 1 | 5 | 5 | 3 | Godiva | $1.49 | Milk | 50% reduced sugar | Belgian (Single origin Venezuelan Criollo beans) | No | BLANK |
| 1 | 6 | 6 | 1 | Dove | $1.99 | White | 50% reduced sugar | USA | No | Fair trade |
| 1 | 6 | 6 | 2 | Lindt | $0.99 | White | Standard | Belgian (Single origin Venezuelan Criollo beans) | Almonds | Fair trade |
| 1 | 6 | 6 | 3 | Dove | $2.49 | Milk | Sugar free | Belgian (Single origin Venezuelan Criollo beans) | Hazelnuts | BLANK |
| 1 | 7 | 7 | 1 | Hershey | $1.49 | Dark | Standard | USA | Hazelnuts | BLANK |
| 1 | 7 | 7 | 2 | Godiva | $1.99 | 70% | Sugar free | USA | Almonds | Fair trade |
| 1 | 7 | 7 | 3 | Dove | $1.49 | Dark | 50% reduced sugar | Switzerland | No | Fair trade |
| 1 | 8 | 8 | 1 | Godiva | $0.99 | Milk | 50% reduced sugar | Belgium | Almonds | BLANK |
| 1 | 8 | 8 | 2 | Lindt | $2.49 | 70% | Sugar free | Switzerland | No | BLANK |
| 1 | 8 | 8 | 3 | Hershey | $1.99 | White | Standard | Belgium | Hazelnuts | Fair trade |
| 1 | 9 | 9 | 1 | Dove | $0.99 | Milk | Standard | Switzerland | Hazelnuts | Fair trade |
| 1 | 9 | 9 | 2 | Hershey | $1.99 | Dark | Sugar free | Belgian (Single origin Venezuelan Criollo beans) | No | BLANK |
| 1 | 9 | 9 | 3 | Godiva | $1.49 | White | Standard | Switzerland | Almonds | BLANK |
| 1 | 10 | 10 | 1 | Lindt | $2.49 | 70% | 50% reduced sugar | USA | Almonds | Fair trade |
| 1 | 10 | 10 | 2 | Dove | $0.99 | 70% | Sugar free | Belgium | Hazelnuts | BLANK |
| 1 | 10 | 10 | 3 | Lindt | $1.99 | White | 50% reduced sugar | Belgian (Single origin Venezuelan Criollo beans) | Hazelnuts | BLANK |
| 2 | 11 | 1 | 1 | Godiva | $1.49 | Milk | Sugar free | Belgium | No | Fair trade |
| 2 | 11 | 1 | 2 | Hershey | $2.49 | Dark | Standard | USA | Almonds | Fair trade |
| 2 | 11 | 1 | 3 | Lindt | $1.99 | Milk | Standard | USA | No | BLANK |
| 2 | 12 | 2 | 1 | Hershey | $0.99 | 70% | 50% reduced sugar | Switzerland | No | Fair trade |
Often the experimental design is shown as a table of numbers, where the numbers refer to the attribute levels: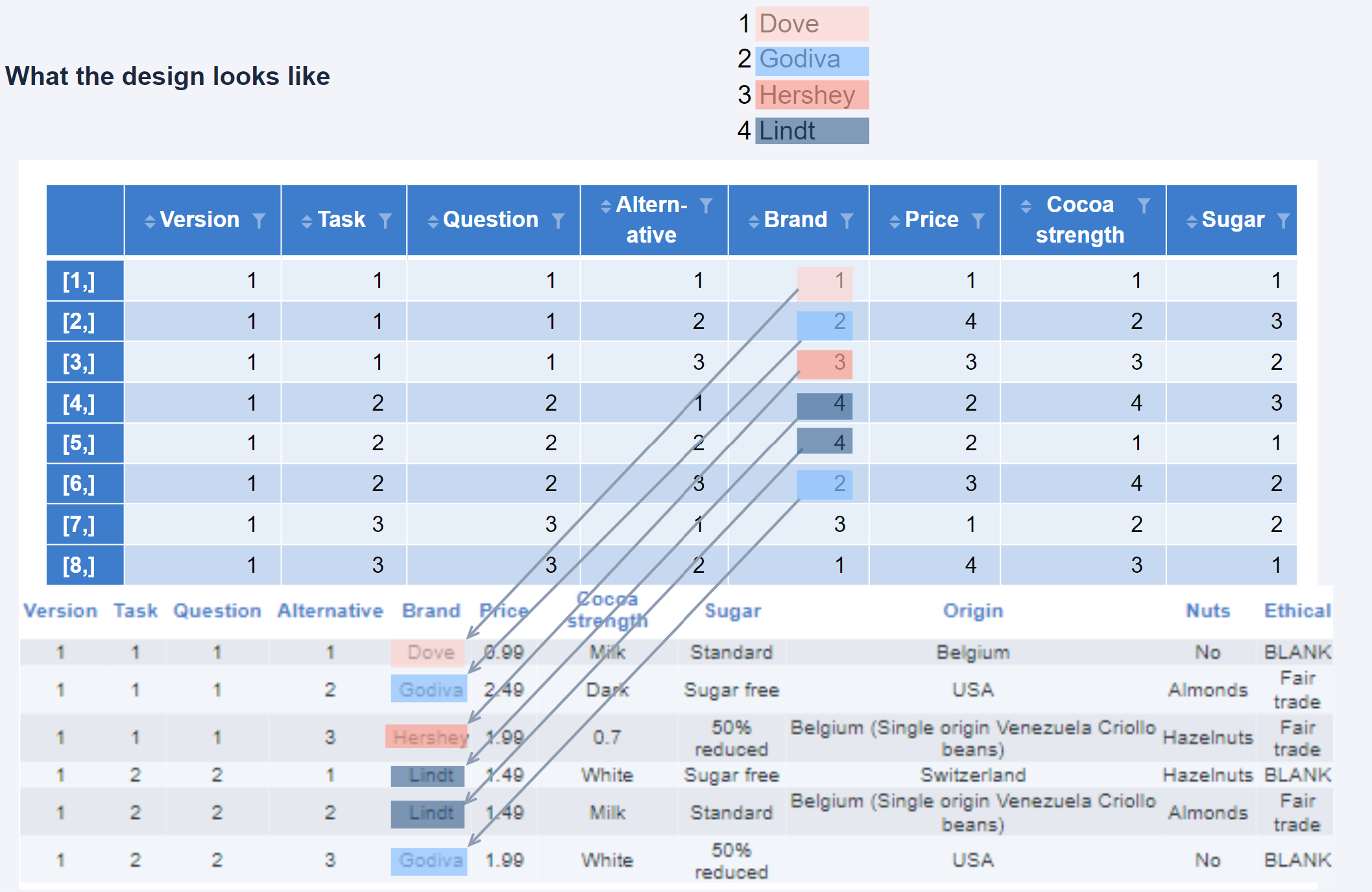 The questions are then constructed from the design: